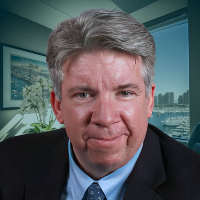 Welcome to our first installment of Speaker Spotlight! This week, we are incredibly honored to feature a renowned figure in the world of rheumatology, Dr. John J. Cush.
A distinguished scholar from St. George's University School of Medicine's second graduating class in 1981, Dr. Cush's passion and commitment to the field were recognized early on when he received the Robert Hingson Humanitarian Award. This recognition was only a stepping-stone for an illustrious career that has shaped the landscape of rheumatology.
Dr. Cush obtained his undergraduate degree from St. John's University, New York, before making his mark at Coney Island Hospital in Brooklyn, where he held the titles of Intern of the Year and Chief Resident in internal medicine. He continued to make significant strides during his rheumatology fellowship, which led to his appointment to the esteemed Rheumatology faculty of the University of Texas Southwestern Medical School.
From 1996, Dr. Cush assumed leadership roles as Chief of the Division of Rheumatology and Clinical Immunology and Medical Director of the Arthritis Center at Presbyterian Hospital of Dallas. This, in addition to his role as a Clinical Professor of Internal Medicine at the University of Texas Southwestern Medical School, attests to his unwavering dedication to the field.
Dr. Cush has earned peer and student recognition alike, being voted one of the Best Doctors in America and Dallas, and winning the Teacher of the Year award from the Internal Medicine Residency Program at the Presbyterian Hospital of Dallas in 1998-99. With his extensive research work in immunopathogenesis of rheumatoid arthritis, biologic therapeutics, clinical trials, and more, he has truly emerged as a thought leader in the field.
With over 100 publications to his name, Dr. Cush's research and knowledge have paved the way for advancements in areas such as rheumatoid arthritis, drug-induced lupus, and biologic therapies, among others. His expertise has resulted in two widely respected rheumatology textbooks and numerous chapters, including a contribution to the acclaimed "Harrison's Principles of Internal Medicine".
His dedication to knowledge dissemination has led him to chair several leadership committees for the National Arthritis Foundation and the American College of Rheumatology. He also champions digital online education, evidenced by his establishment of RheumNow.com. This platform serves as a key resource for the latest developments in rheumatology, making significant strides in bridging the knowledge gap in this specialized field.
Currently, Dr. Cush continues to lend his expertise as a member of the Arthritis Advisory Committee for the Food and Drug Administration and as Chairman of the Corporate Relations Committee for the American College of Rheumatology. Additionally, he holds the prestigious position of Chair of the Academic Board of Trustees for St. George's University.
As a physician, a researcher, an educator, and an author, Dr. Cush embodies the versatility that the field demands. His impactful contributions, dedication to education, and patient-centric approach truly set him apart. We are thrilled to spotlight Dr. John J. Cush and we look forward to his continued influence and leadership in rheumatology.
We are thrilled to have Dr. Cush speaking at CCR West this year. Speaking on Rheumatology Year in Review Saturday morning and speaking during the banquet dinner Saturday evening. 

Register for CCR West to attend these sessions.